Thinking back on holiday memories, the brightest Christmas tradition for many families is bundling up in a warm car and driving around to see the sparkling light displays. Branson holds its own as the top holiday destination in the Midwest, thanks in no small part to the gorgeous light displays that illuminate the chilly Ozark nights. Here are five light displays that are a must see when visiting Branson.
And no holiday is complete without a trip to see Santa and his elves! Check out Here Comes Santa Claus! : The Best Places in Branson, Missouri to See St. Nick This Holiday Season.
Make sure to Reserve Your Branson Vacation Guide for Christmas show schedules, maps, coupons, and lots of insider information on the best of Branson! The most exciting part? It's totally free!
Looking for more ways to save? Give us a call at  (800) 208-8164 to find out how to save on your show tickets and much more!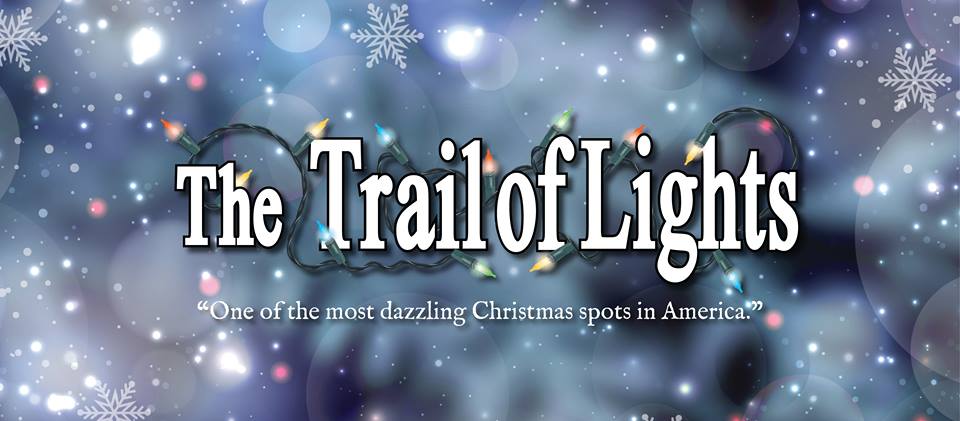 THE TRAIL OF LIGHTS AT SHEPHERD OF THE HILLS
5586 W 76 Country Boulevard
Branson, MO 65616

Open Every Night November 1 – December 30
from 5:30 pm to 10:30 pm
(open until 11 pm on Friday and Saturdays, or later as traffic dictates)

Season after season the historic Shepherd of the Hills Homestead decks its 160 acres with Christmas magic. Recognized by The Travel Channel as one of the top drive through Christmas attractions in the United States, the Trail of Lights was the first attraction of its kind here in Branson, and is celebrating its 29th year of cheer. Winding through the property is two and a half miles of sparkling Christmas lights, accented by over 120 animated displays, including Santa's workshop, a jolly polar bear family, scenes from the Nativity, and many more!
Finish your night with a complimentary cup of hot cocoa or cider, and a trip to the top of Inspiration Tower, which is transformed into a 230 foot Christmas Tree every November and December! Panoramic views of the Trail of Lights below and the shimmering Branson skyline are sure to be a highlight of your family's holidays.
Prices (Call (800) 208-8164 for Information on Savings!) :
Per Car (maximum of 8 passengers) : $25
• Includes the two and a half mile drive thru, Inspiration Tower admission, and complimentary hot chocolate and cider.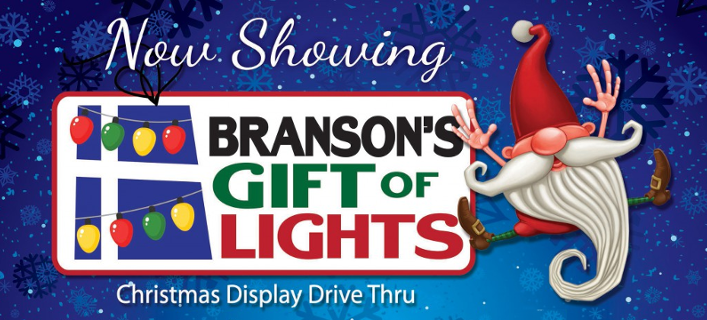 BRANSON'S GIFT OF LIGHTS
700 Expressway Lane
Branson, MO 65616
Open Every Night November 1st – January 1st
from 5:00 pm to 11:00 pm
Branson's Gift of Lights has been illuminating the Ozarks since 2015, and they are entering the 2018 season with even bigger and brighter displays. In fact, 25% of the 1.2 mile route is comprised of brand new light arrangements. You'll see all of your favorites, like the 12 Days of Christmas, Noah and his Ark, and a beautiful Christmas Tree Forest, but keep an eye out for the new additions, including several patriotic displays and a bustling North Pole Village! As Branson's first Christmas light attraction to use only LED bulbs, each one of the Gift of Light's 300 displays shine brighter than those made with traditional bulbs and benefit the environment as well.
Make sure to snap a selfie with the the man in red himself, Santa and Mrs. Claus! They're available Thursday, Friday, and Saturday evenings from 6 pm – 11 pm, through December 22nd. Hot chocolate is available to keep you warm, and you can warm your heart as well by making a donation (for whatever amount you'd like) to KLife. Branson's Gift of Lights is also collecting non-perishable items for Christian Action Ministries (see below for details). You can make memories your family will cherish forever while assisting another family right here in the Ozarks! 

Prices (Call (800) 208-8164 for Information on Savings!) :
Per Car : $20
Shuttles, Mini-Buses, Church Vans, or Limos : $35

Motor Coaches : $60

You can save $3 off your ticket price when you purchase your ticket at the gate by donating three items to Christian Action Ministries at Branson's Gift of Lights! Consider donating any of the following:
• Canned Foods, like corn, green beans, beets, carrots.
• Personal Items, such as toothpaste, soap, deodorants.
• Dry Goods, like beans, rice, pastas.


LET THERE BE LIGHTS AT PROMISED LAND ZOO
2751 Shepherd of the Hills Expressway
Branson, MO 65616
Open Every Night November 1 – December 31
from 5:00 pm – 11:00 pm
(zoo by day closed November 22, November 30 and December 25)
Branson's Promised Land Zoo transforms into a Winter Wonderland each November and December as it sparkles with the largest drive through Christmas light display in the Ozarks. Experience their interactive animal encounters by day, and three miles of twinkling LED lights by night! End your drive at their Candyland Village where you'll find a living nativity with live animals, musical dancing trees, photo opportunities with Santa and his reindeer, Christmas movies playing in the stage area, and their Stocking Stuffer Gift Shop.
Make sure you upgrade your experience by choosing Santa's Safari VIP Tour! In addition to the previously mentioned perks, your family will make Christmas memories that will last forever by meeting Santa's reindeer up close, with special photo opportunities included. Also enjoy a guided tour of the Christmas lit trail, with opportunities to feed animals along the route, all in the comfort and warmth of a climate controlled tour bus.

Prices (Call (800) 208-8164 for Information on Savings!) :
Ages 2 and Up  : $10
• Includes the three mile drive thru, Candyland Courtyard, and all scheduled Basic Admission Offerings.

Santa's Safari VIP Tour : $20
• A guided tour through the three mile 'Let There Be Lights' Christmas display and feeding opportunities along the drive thru route with one of Santa's helpers as your guide on our climate controlled tour bus.
• Meet a baby animal prior to departure like our baby kangaroo or other cool baby animals.
• The ONLY chance to meet, pet and take photos with the Branson Reindeer herd! Meet Comet, Sven, Vixen, Dancer and Prancer in the VIP Exclusive reindeer area.
• A chance to drive thru in your own vehicle as many times as you like. 
(Prebooking is recommended as slots may fill quickly. Prebooking is available up to 4 hours prior to departure.)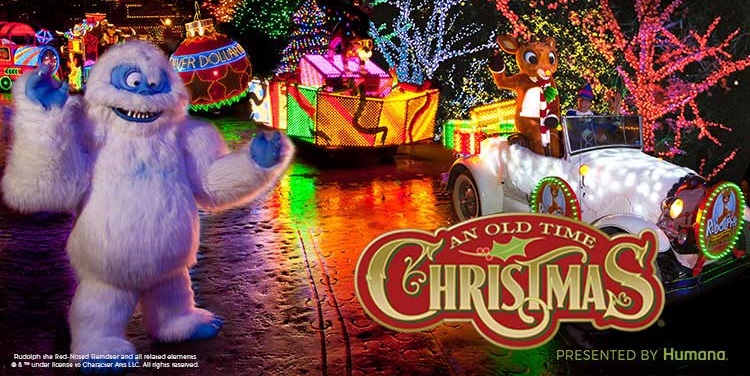 SILVER DOLLAR CITY CHRISTMAS IN MIDTOWN
399 Silver Dollar City Parkway
Branson, MO 65616
Open November 3 – January 1
from 1:00 pm – 9:00 pm
(Saturdays Open 11:00 am – 10:00 pm)
(Closed Mondays, Tuesdays (except December 18), and the first two Wednesdays in November)
Each holiday season Silver Dollar City dons 6.5 million lights, transforming into one of the Nation's top Christmas festival destinations! All through the 1880's themed park bright animations and larger-than-life displays stretch as high as nine-stories into the chilly Ozark sky. In the center of the main square, a five-story Christmas tree adorned in 350,000 LED lights puts on a brilliant show starting each night at 5:20 pm (and repeating on select quarter-hours throughout the evening). Along with the square's 10 storefronts, and over 250 cut trees twinkling in unison, it makes for a sight and sound spectacular like no other!
Make sure to catch Rudolph's Holly Jolly Christmas Light Parade, which weaves through the park twice a night (weather permitting). Rudolph the Red-Nosed Reindeer leads this musical procession of nine animated floats and over 45 costumed characters, all decked with festive lights. See old and new friends like Bumble the Abominable Snow Monster, 14-foot tall moose characters, 12-foot tall elves, and 10-foot tall candy canes, plus a princess, penguins, and a troupe of marching wooden soldiers!

Also enjoy the delicious food, amusement rides, and live shows all throughout the park as they celebrate An Old Time Christmas!
Prices (Call (800) 208-8164 for Information on Savings!) :
Children (Ages 4 to 11)  : $54
Adults (Ages 12 to 61) : $65

Seniors (Ages 62+)  : $63

ELECTRIFY CHRISTMAS : A MUSIC AND LIGHT SPECTACULAR
3345 W 76 Country Blvd
Branson, MO 65616
FREE Light Show Every Hour on the Hour from 5 pm – 10 pm

A recent transfer all the way from Navy Pier in Chicago, Illinois, the Branson Ferris Wheel has quickly become a must-do attraction for visitors and locals alike. Standing 150 feet tall, its 40 gondolas can hold 240 passengers. It is also outfitted with 16,000 LED fixtures, which hold over 144,000 individual lights, and when the sun goes down they put on a dazzling show!
From its position right on Branson's main strip, the Ferris Wheel offers breathtaking views of the rolling Ozark hills and puts the shining entertainment district on display. This holiday season it will give you a bird's eye view of Christmas lights all through the city, but make sure you catch the music and light spectacular that plays every hour on the wheel itself!
Too cold out for a ride? Park nearby and tune into 90.9 FM to listen to Electrify right from your car or bus!
Prices (Call (800) 208-8164 for Information on Savings!) :
(cost to ride the Branson Ferris Wheel)

Adults (12 and Up) : $12.00
Kids (11 and Under) : $8.00
Toddler (3 and Under) : FREE
Looking for more information? Have any questions?
Give us a call at  (800) 208-8164 to get the answers!
And make sure to Reserve Your Branson Vacation Guide for Christmas show schedules, maps, coupons, and lots of insider information on Branson's best! The most exciting part? It's totally free!