It's beginning to look a lot like Christmas in Branson, Missouri! As soon as the calendars flip to November, the shows here pull out all the stops with holiday cheer. After all, Branson is the live music capital of the world. With live performances showcasing incredible vocals, dazzling dances, and side-splitting comedy, there is a little bit of something to make everyone's holiday merry and bright!
Going to be in Branson for Thanksgiving? Check out these live performances showing on Thanksgiving in Branson, Missouri!
Make sure to Reserve Your Branson Vacation Guide for Christmas show schedules, maps, coupons, and lots of insider information on the best of Branson! The most exciting part? It's totally free!
Looking for more ways to save? Give us a call at  (800) 208-8164 to find out how to save on your show tickets and much more!
Join the talented cast of #1 Hits of the 60's for a high energy party as they revisit the days of the British Invasion, Motown, California Surfin' & the Age of Aquarius! They pack their show with over 100 songs, 100 costume changes, a special tribute to our veterans, and for the holiday season they've added plenty of groovy Christmas tunes to the mix!
The Mabe Brothers began performing for visiting fishermen on the shores of Lake Taneycomo in 1959, establishing the first and longest running show in Branson, Missouri – now touted as the live entertainment capital of the world! And the Mabe family is still at it, entertaining visitors and locals alike. Join them for special Christmas performances and keep that tradition alive!

Clay Cooper's Country Music Express
Clay Cooper's Country Express has something for everyone! Enjoy live music, singing, dancing, hysterical comedy and more! From George Jones to Hunter Hayes, from the Doobie Brothers to Bruno Mars, Clay and his cast of 24 veteran entertainers will bring you a high energy performance filled with a dynamic variety of country, gospel, and all the Christmas songs you love!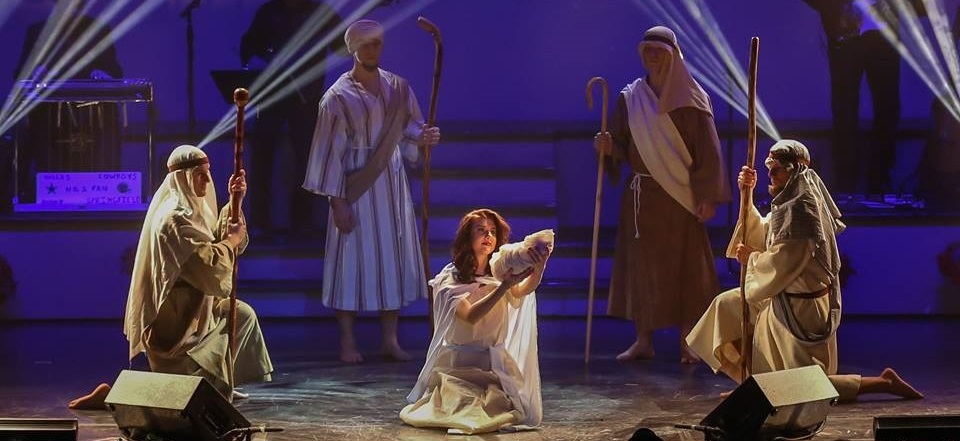 Christmas with Elvis – Live with Jerry Presley
Jerry Presley is Elvis Presley's second cousin, and in 1970 Jerry began performing in tributes to his cousin across the United States. Today, in the U.S. and abroad, Jerry Presley continues to perform over 200 live concerts per year! Christmas with Elvis, the chart-topping album by the King himself, comes to life in this once in a lifetime tribute.
Hamner's Unbelievable Christmas
The Hamners have spent years touring their magic and illusion production, stunning audiences worldwide. Their dream was to produce and present a truly family friendly variety show to appeal to ages 2 to 102, and they've done just that! Sprinkled with Christmas spirit, this production is packed with talented vocalists, magical illusions, and plenty of comedy. 
The Haygoods bring the house down night after night with tight harmonies, energetic choreography, and amazing performances on over 20 different instruments! The Haygood's take pride in crafting their show for their audiences, and for the holiday season they raise the bar even higher with lights galore and Christmas classics like you've never seen.
Brand new on the Branson entertainment scene, Heartland Country is taking Branson back to its roots. Smooth, impeccable vocalists combine with a stellar band to bring you a country Christmas straight from your memories. Come on in, take a load off, and prepare to revel in some of the best classic country music of all time.
Get your glad rags on, Hot Rods and High Heels will take you right back to the 1950's! Celebrating poodle skirts, sock hops, and soda shops, their eight singers/dancers and live band are sure to stir up some fond memories of "the good old days!" Enjoy a couple hours of pure holiday entertainment, reminiscing with songs and dances that will get you in the spirit!
Out of the clever artistry and inventiveness of the Hughes Brothers comes the brilliantly produced, all new for 2018, Hughes Christmas Show! Featuring the dynamic Hughes Brothers, their beautiful wives, and their ridiculously talented children, they take 30 years of show biz experience and wrap it up into a single performance. Celebrate family this holiday season!
Jim Stafford, Branson's favorite singer, songwriter, comedian, and guitar virtuoso is bringing everything back to the stage that earned him awards for best entertainer, best personality, and best comedy show. In addition to exciting new material, you can expect to see your favorite bits from the past as well! This is a Christmas celebration you do not want to miss!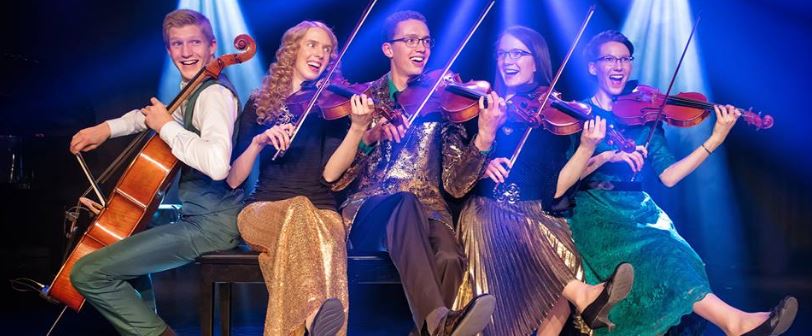 The Johnson Strings is an incredible family of eight talented musicians. Violins, violas, cellos, bass, piano, mandolin, and banjo are all expertly played with grace and flair. The siblings have spent thousands of hours perfecting their craft, and the music they produce is truly jaw-dropping! Come hear your favorite Christmas songs, hymns, and carols played on the Johnson's strings.
The Tinoco's Magnificent 7 Show gets a holiday makeover each Christmas season. Seven professional performers bring you over seven decades of musical hits and nostalgic memories in each show. They will dazzle you with over 200 costume changes, award winning vocal performances, and comedy that will warm your heart and tickle your funny bone too!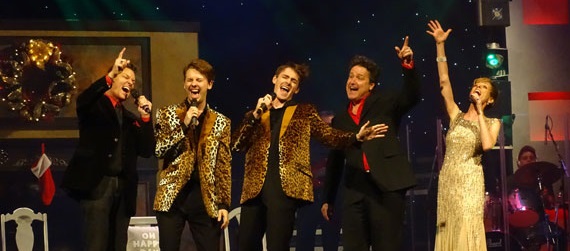 Oh Happy Day! Goin' Back to Gospel
These talented vocalists highlight the greatest gospel songs of all time! Show founder Gary Koreiba says, "Our vision was to produce an all-gospel show that honored Jesus Christ from beginning to end and took people back to the great gospel songs that they grew up on and love." And this holiday season their carols and hymns that will take you right back to the heart of Christmas.
The Petersens are an award-winning bluegrass band in their eighth season of shows. Each performance they bring audiences bluegrass standards, gospel favorites, and the Christmas songs you love. The intimate setting of the Little Opry Theatre and The Petersen's sibling humor on stage will make any audience feel like a part of the family.
The Sanctified Sanders Family Singers are back to celebrate the holidays with faith, family, and old-fashioned fun. It's Christmas Eve in 1941, and the Sanders family is about to say a bittersweet goodbye to their son, who is shipping out with the Marines. But before he goes, the Sanders Family Singers are heading up the annual Christmas celebration at Mount Pleasant Baptist Church. Join them for a humorous and heartfelt look at what Christmas is all about.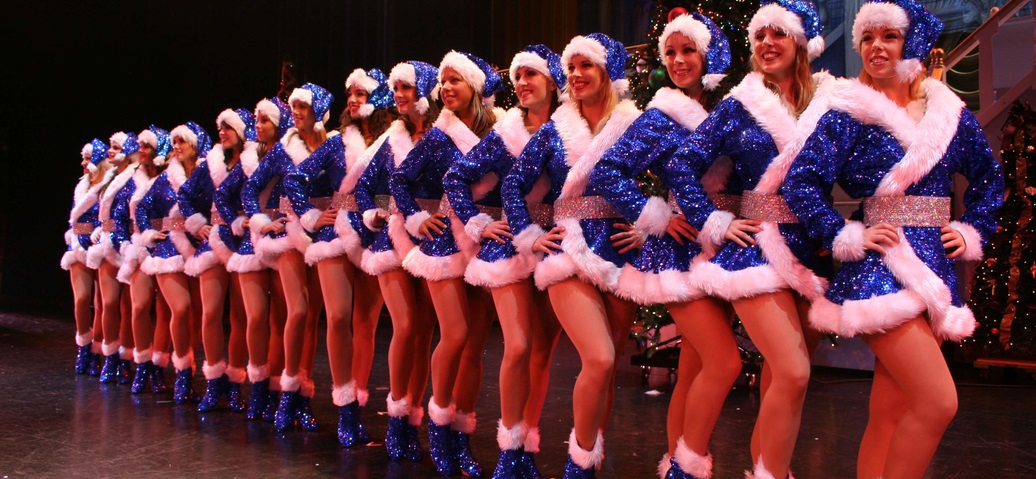 Other Great Shows in Branson for the 2018 Christmas Season:
Andy William's Ozark Mountain Christmas
Christmas Wonderland at King's Castle Theatre
The Christmas spirit at King's Castle Theatre is so irresistible that their other popular shows get a festive makeover too! Broadway – The Greatest Hits, Dublin's Irish Tenors and the Celtic Ladies, and New Jersey Nights all weave your holiday favorites into the shows you already know and love.
Looking for more information? Have any questions?
Give us a call at  (800) 208-8164 to get the answers!
And make sure to Reserve Your Branson Vacation Guide for Christmas show schedules, maps, coupons, and lots of insider information on Branson's best! The most exciting part? It's totally free!