Conway Remembered
Hamner's Variety Theater
3090 Shepherd of the Hills Expy, Branson, MO 65616
"When you close your eyes, you can't believe it's not Conway singing"!, that was Mr. Mickey Gilley's recent remarks as he watched the performance by Mike Walker in Mike's production of Conway Remembered. We think you'll feel the same.


Nashville recording artist Mike Walker brings his CT Band forward and brings you the best of the unforgettable Conway Twitty and his band the Twitty Birds in each show. Mike is a brilliant artist, songwriter , musician AND musical impressionist in all genres of music, whether country, rock, ballads, pop or gospel.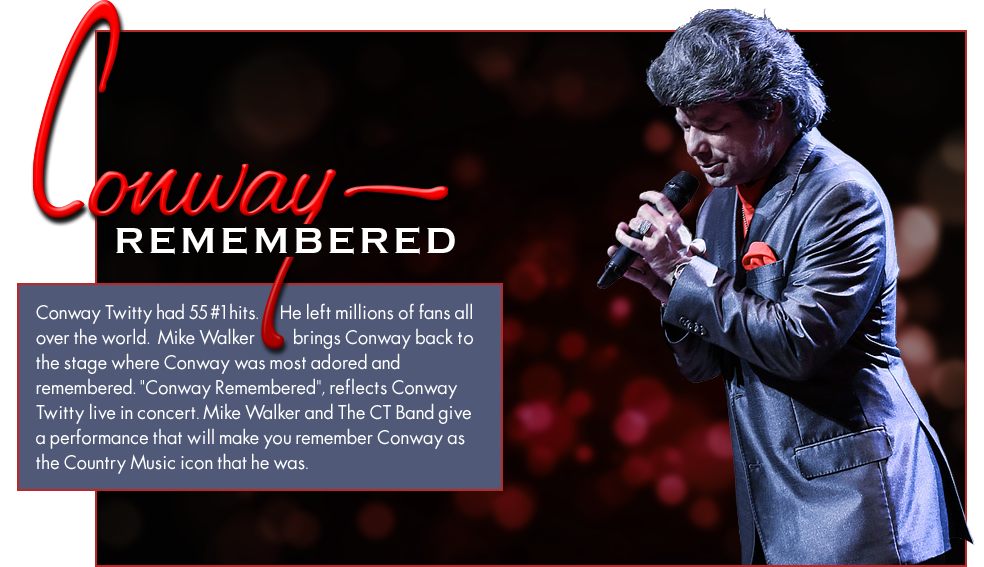 Whether you are or were a Conway Twitty fan, when you see this show production you WILL be! And, you'll be a diehard Mike Walker fan as well. The entire family will enjoy the energy and soul put into each song by this outstanding talent and the live musical accompaniment of the CT Band featuring the finest musicians playing today! Over-the-Top legend Conway Twitty would be in awe of his music. We're sure you will be too. Musical memories, previously untold anecdotes of Conways life, adlibs and antics ensure a great time. Meet Mike after the show.