Hamner's Unbelievable Variety Show
Hamner's Variety Theater
3090 Shepherd of the Hills Expy, Branson, MO 65616
Ticket Pricing Notes:
Child Ages 0-12
Dave Hamner and his beautiful wife Denise spent years touring their magic and illusion production stunning audiences worldwide! The Hamners' have been honored to receive awards and recognition from their peers and for the highest level of their craft. Their dream was to produce and present a truly family friendly variety show to appeal to all ages from 2 to 102 ! And, they've done just that!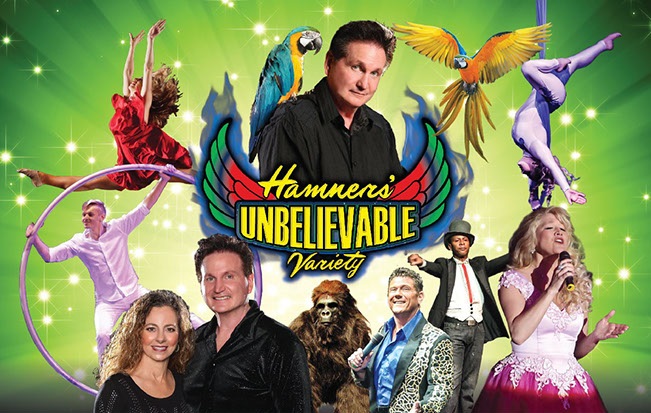 Hamners Unbelievable Variety Show is a family friendly, full variety production that not only presents several of their copyrighted magic and illusions but also features a cast of the finest musical, acrobatic, dance and comedy performers. We present talent from the four corners of the globe and we're proud of our ethnically diverse lineup.
It's easy to see why the Hamners' were recently honored with "Magic Show of the Year" and "Producers of the Year" awards in Branson. As Nick, a recent guest commented, "Just got back from the show, could not wait to say that this show was the best variety show I have ever seen before. 5th time at the show and it only gets better". Thank you, Nick, we are humbly honored.